7 Questions to Ask During Your Next Dentist Visit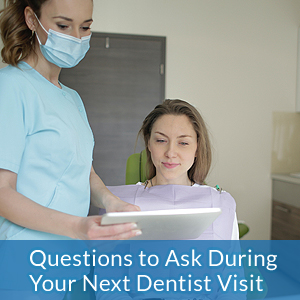 Do you have a scheduled dental appointment? Are you concerned about any dental irritations that have been picking your mind for quite some time? How do you approach your dentist with your worries? In our previous blog, we have explained 7 reasons to visit your dentist in Kendall Park during winter. Here we have listed 7 most common questions you can ask your dentist to make the most of your appointment.
7 Questions to Ask During Your Next Visit to Dentist in Kendall Park:
Why Do My Teeth Feel So Sensitive?

If you experience tooth sensitivity, talk to your dentist in Kendall Park regarding the issue. A good dentist will be able to guide you through the do's and don'ts of maintaining healthy teeth.

How to Keep My Teeth Whiter With Cosmetic Dentist?

More than 75% of individuals want their teeth to be whiter! Even with frequent dental cleanings, the majority of people will have stains on their teeth. The cosmetic dentist in Kendall Park will be able to propose the best teeth whitening treatment for you regardless of the reasons and how deep the stains or discolourations may be. So remember to enquire about the process, its effects, durability, and the do's and don'ts post-whitening to maintain sparkling white teeth.

What Do Dentists Do to Strengthen My Teeth?

Various dental procedures like fluoride treatments can boost your teeth's strength and resilience. The dentist will provide a variety of different procedures for strengthening your teeth and you can obtain suggestions based on your needs.

What Are the Symptoms of Gum Disease?

Gum disease, if neglected, can end up causing grave infections and loss of teeth. Several chronic conditions, like heart disease, diabetes, and Alzheimer's are linked to gum disease. Enquire with your emergency dentist in Kendall Park about the symptoms, reasons, and treatments for gum disease to get a clear understanding and about preventive measures to curb future infections.

Is My Dental Health at Risk in the Future?

Some people could be more susceptible to dental issues than others in some instances. This might be due to inherited genes, poor oral hygiene practices, or dangerous activities like smoking or tooth grinding. You may consult your dentist on maintaining good dental and oral health consistently.

What Are Your Financial Options/Payment Plans?

Nobody enjoys getting startled with an alarmingly huge bill post one's dental procedures. That is why you must clarify with your dentist or dental office regarding the expenses involved before you go for the treatment. Treatments like dental implants in Kendall park or Invisalign treatments or dental surgeries may have various payment plans. So do not forget to enquire about them and get a clear idea.

Can Dentists Help Overcome Dental Anxiety?

You're not the only one who gets panicked about dental visits. It's natural for anyone to be sceptical about the entire procedure, the pain involved and further consequences. But do not let such worries prevent you from taking care of your oral health and hygiene. Broach the subject at your visit if you're feeling anxious! A well-experienced and professional dentist Kendall Park would gladly assist you in overcoming your phobia.
Conclusion:
Visit our dentist in Kendall Park to get access to quality dental care. Smiles 'R' Us Dentistry, located in Edison and Kendall Park, NJ provides you the best treatments with all the necessary dental services within your budget. For more information call us at (732)-516-0111 and schedule an appointment today.
---