7 Reasons To Visit the Dentist in the Winter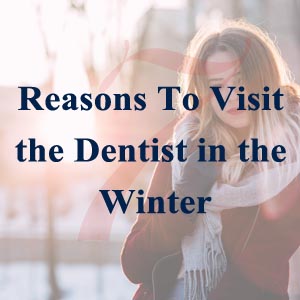 You may be aware that dry and cold winters can have a drastic effect not only on your skin and chapped lips; it can also create lots of dental issues. The holiday season is one of the busiest seasons of the year. Often we find ourselves getting the routine dental appointment pushed far.
January can be potentially the appropriate occasion to arrange your dental appointment. This will ensure comprehensive dental health. In our previous blog, we have explained 6 reasons to consult a dentist in Kendall Park. However, take a proper look at what you need to understand about keeping you and your family's oral health top-notch.
7 Reasons To Visit Your Dentist in Kendall Park During Winter:
Avoid the Crowd:

In order to maintain top-notch oral health, it is good to schedule your dentist appointment in winter. Because, during spring more people schedule a visit to dentists.

Avoid Rescheduling:

Typically, spring seasons are busier than other seasons as you get occupied with many activities. Before the arrival of friendly weather, it is advisable to visit the dentist in Edison during winter to avoid rescheduling your appointment.

Overcome the Flu Scare:

Winter is notorious for flu. Many over-the-counter flu remedies such as cough drops or suppressants do contain a high level of fructose, citric acid, and low pH levels. They attack the tooth enamel. Flu season can also have an impact on your oral health.

Prevent Depression:

The freezing winter can trigger depression and anxiety among many individuals which can have an impact on their consistent dental care. Visiting a cosmetic dentist in Kendall Park during winter can be an effective mode to boost confidence and take preventive care against larger dental issues later.

Avoid Complicated Dental Issues:

Many individuals suffer from unexpected discomfort due to sensitive teeth during winter. This can be caused by a cavity, teeth grinding, a loose filling, or recession of the gum, and many more issues.

Retain Your Confidence:

Winter can be a very special time for self-love and taking care of our oral health. Some procedures of cosmetic dentist in Edison can be a very effective way to regain your self-esteem during this winter.

Alcohol and Its Consequences:

Consuming alcoholic beverages can also cause havoc and harm to your gum and enamel. By consulting a dental specialist you can assure dental hygiene.
Conclusion:
If you are looking forward to availing yourself of reliable cosmetic dentistry services or require urgent teeth whitening, bonding, Invisalign, Lumineer, or porcelain crowns or veneers you can approach our dentist in Kendall Park Dr. Pinali Javeri Menon and her seasoned team at the Smiles 'R' Us Dentistry in Kendall Park, NJ. Dr. Pinali Javeri Menon has over two decades of experience and expertise in the diverse field of dentistry. Browse through our website Smile 'R' Us to access patient referral materials. Fill up and submit a contact form for patients today. In order to know more about the services or to book a consultation contact us at (732)-532-2112 right away.