How Braces Move Teeth Every Day?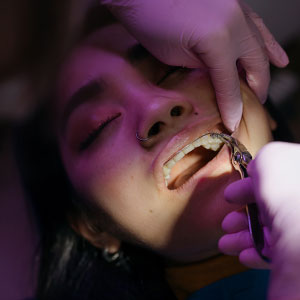 Braces are the best and the most recommended treatment to counter teeth alignment issues. An orthodontist suggests braces to have problems like protruding teeth, misaligned teeth, bite problems, etc corrected. Often, these dental issues create feelings of negative self-consciousness. In our previous blog, we have explained 5 tips to consider before getting dental braces in Edison. As a result, people choose braces to align their teeth, correct malocclusion and teeth crookedness, and enjoy higher self-esteem.
Meet the Dentist in Edison:
When going for this treatment, one question that often pops up in the mind of people is whether the braces move teeth every day or not. Reaching out to Dr. Pinali Menon, a renowned dentist in Edison at Smiles 'R' Us is the best solution. Let us start by understanding what dental braces are.
Dental Braces in Edison:
Dental braces are a popular orthodontic device. It enables teeth to straighten. Alignment of teeth can also be rectified through braces. Gradually, protruding or misaligned teeth are brought to the right position with a gentle but firm push of braces. It also helps treat malocclusion.
How Long Do I Have To Wear Braces?
Braces need to be worn for an average of one year and a half or two. The amount of time braces are to be worn depends on the extent of correction and treatment required. In some cases, extensive dental braces in Kendall Park treatment may be required. In such cases, braces may have to be worn for three years.
How Do Braces Move My Teeth, and When Will the Changes Be Visible in My Teeth?
Our teeth start shifting after a month of bonding. The process is very slow and gradual. After two to three months, noticeable changes can be seen in teeth shifting to the required position.
Why Do Braces Take This Long for Correcting Dental Imperfections?
Braces are a constructive yet time-taking procedure. It gently nudges the teeth into the proper position. Depending on the severity of the problem, it may take a lot of time. Moreover, braces move teeth attached to the solid jaw bone. Hence, the process cannot be rushed. As a result, teeth gradually get shifted to the new and desired position. Your dentist in Kendall Park can give you the best timeline of the treatment.
Do Braces Move Teeth Everyday?
Thus, a simple reply to the query whether your braces move your teeth every day or not is an emphatic yes. The movement of teeth involves these actions: bone of the side tooth breaking down, getting pulled forward, and then growing again to hold the tooth in its new position. Thus, the process may be slow, but it is certain and steady. Braces are simple devices that provide a biomechanical gait that helps shape the teeth and their shifting to the desired position.
Conclusion:
If you are looking for dental braces in Edison or Kendall Park, then consider Dr. Pinali Javeri Menon at Smile 'R' Us. Dr. Pinali Javeri Menon is the finest dental practitioner in the region. Head to our website of Smile 'R' Us to learn more about the services provided by our clinic. Dial us at (732)-516-0111 to arrange for an appointment right away.