Emergency Dental Implants: How to Get the Care? | Edison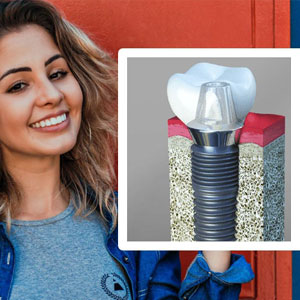 Emergency dental injuries can happen at any time. A medical condition can become severe if immediate treatment isn't taken. In cases of such urgent dental injuries, emergency dental implants are used. In our previous blog, we have explained 6 common signs you need an emergency dentist in Edison. Read on to discover more.
What Is an Emergency Dental Implant?
Dental implants are a popular and standard procedure in a dental emergency like a knocked-out or broken tooth. Implants are done mainly by a cosmetic dentist in Edison.
Procedure of Dental Implants in Edison:
Removing the damaged tooth from the teeth socket
Placing the implant on the empty oral socket
Pacing a temporary dental crown
After a few more months of healing, placing the implants and infusing them into the jawbone
2 Factors You Need For Emergency Dental Implants in Edison:
Not everyone may be eligible for emergency dental implants as it requires a few criteria. Here are the factors that can determine your eligibility:
Healthy existing teeth, gums, jawbones
Overall a favourable health condition
Dental implants in Edison will be necessary to prevent death when a patient has periodontal disease, decay, or signs of gum inflammation or infection.
Why do I need to Get Emergency Dental Implants in Edison?
Unfortunately, most dental insurance policies do not cover emergency dental implants. Despite the problem, the procedure has many benefits that can keep your oral health game strong in the long run.
6 Benefits of Dental Implants in Edison:
The need for emergency dental implants is as listed below:
Having cosmetic dental implants that look and feel like natural teeth makes chewing, swallowing, and talking more comfortable.
Cosmetic dental implants can help you to maintain your gum and jawbone health and strength. It also protects you from severe gum decay, inflammation or infection, and bone and jawbone loss.
Dental implants also encourage you to show your beautiful smile and boost your self-confidence freely.
Bone loss can make your empty tooth sockets shift teeth. It may make your dental work more complex.
Dental implants can reduce the chance of future dental work and even ease restorative procedures.
Cosmetic dental implants help you chew and swallow foods if you have bite issues.
If you are facing emergency dental traumatic injuries and require urgent care without further delay, rush to your nearest hospital and seek medical assistance.or you can contact us for dental care solutions.
Conclusion:
We suppose you're interested in finding a state-of-the-art emergency dentist in Edison solution. You can conveniently approach Dr. Pinali Javeri Menon and her highly skilled specialist team for reliable emergency dental treatment at Smiles' R' Us. Dr. Pinali Javeri Menon has practised various orthodontic, restorative, and implant dentistry procedures such as dental implants and many more functions for over 20+ years.
Dr. Pinali Javeri Menon is well known for her compassionate, caring, and efficient expertise in dentistry. You can schedule an emergency consultation with our dentist in Edison. to learn more about our service and available procedures. Don't hesitate to contact us at (732)-516-0111.
---