Emergency Dentist Vs Cosmetic Dentist: What Is the Difference?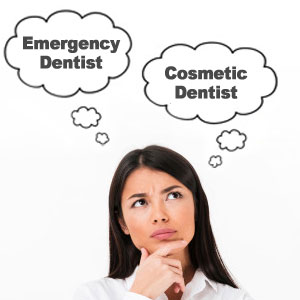 Many kinds of dentists perform varied dental services that can improve the appearance of a smile. You should know which dentist is required for which service.
For example, anyone who has a broken dental crown should have it replaced. In our previous blog, we have explained when to visit an emergency dentist in Edison for a toothache? However, if they have confusion about which dentist to see, then a strong recommendation would be to meet the same dentist who installed the implants. But if you can't find the same dentist, then an emergency dentist is the next good option.
Why Pick Out an Emergency Dentist in Place of a Cosmetic Dentist in Edison?
An emergency dentist in Edison specializes in emergency care that is required immediately. However, a dental emergency usually finishes in just one procedure. Once the initial issue has been resolved, the majority of people choose a cosmetic restoration.
Things to Do if Your Dental Crown Breaks or Comes Off?
Remove the tooth from the mouth. Try not to swallow it and get in touch with your emergency dentist in Edison at once. An emergency dentist will advise you on whether or not temporary cement should be used to reattach the crown.
5 Examples You Need Emergency Dentist For Cosmetic Treatment:
Chipped or Broken Tooth:

A tooth can chip and break due to many reasons. No matter what the reason is, it needs immediate care. Your dentist in Edison will work from the initial stage to stop bleeding in the face and mouth. Once this is done your emergency dentists will advise you how to take care of it until your scheduled dental appointment date.

Lost Tooth:

If you have suddenly lost a tooth, you need to try to put the tooth back in the empty socket and use gauze to keep your tooth in place. Visit your emergency dentist at once and save your tooth.

Lost Crown or Filling:

If you have lost a crown or filling due to any reason, it requires first aid immediately. Once the bleeding stops your emergency dentist in Edison will remove the leftover tooth and get the socket ready for dental implants in Edison.

Loose Tooth:

If your tooth is loose it needs immediate treatment. The root may be damaged and needs to be fixed with the help of a root canal. So, schedule an emergency dental visit to understand the state of your tooth.

Abscess:

An abscess is an infection in the teeth and gums that causes pain, pus formation, and swollen tissues. This issue is treated, by removing the pus and a root canal to reduce swelling.
Conclusion:
Smiles 'R' Us dental clinic is one of the best dental clinics that offers the best emergency Dentist. If you want the services of a reputed cosmetic dentist in Edison, or want to avail other dental procedures consider Dr. Pinali Javeri Menon at Smile 'R' Us. Dr. Pinali Javeri Menon and the team provide the best dental care. Browse through our website of Smile 'R' Us or call us at (732) 516-0111 to gather more information right away.