Benefits of Dental Implants: Improved Oral Health | Edison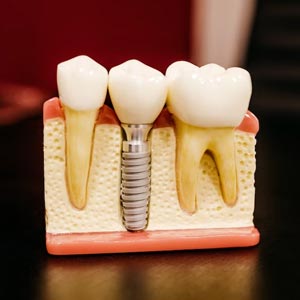 Is having missing teeth a source of shame for you? Want a long-term solution that provides exceptionally natural-looking results that make you confident about your smile? In a previous blog post, we discussed Dental Implants: An integral part of cosmetic dentistry. However, in this blog post, we will understand the advantages of dental implants to secure your grin.
Dental implants in Edison are a highly favored option among those patients looking to replace missing or damaged teeth. In addition to providing a comfortable and stable base for replacement teeth, they can improve oral health and quality of life in several ways.
Here are a few advantages of dental implants and how they can secure your grin.
A Stable and Secure Solution:
One of the most prominent benefits of getting dental implants in Edison is that they provide a stable and secure base for replacement teeth. Unlike traditional dentures or bridges, most dental implants are anchored directly into the jawbone. You no longer have to eat, speak, and smile while worrying about your replacement teeth shifting or falling out.
It is essential to have a healthy jawbone and bone density for the procedure. You would also need to give yourself some downtime to allow healing, but implants can last decades with proper hygiene and care.
Improved Oral Health:
Unlike traditional dentures or bridges, dental implants do not rely on neighboring teeth for support, which can help preserve the health of your remaining natural teeth. Dental implants help prevent bone loss in the jaw, a common issue for those who have lost one or more teeth.
Our dentist in Edison will analyze your oral health when getting your implant, thus enhancing your oral health. Hence, dental implants can help maintain your mouth's overall health and function.
Natural Appearance:
Implants can provide a natural appearance that blends seamlessly with your remaining natural teeth. The replacement teeth are custom-made to match the color and shape of your existing teeth so they look and feel like your own. Dental implants give you a beautifully complete smile that you'll want to show off all the time.
Do Not Let Missing or Damaged Teeth Limit Your Potential:
If you're ready to secure your grin and improve your life, contact our expert Dr. Pinali Menon and our experienced team at Smiles R Us right now. Schedule a consultation to learn more about dental implants in Edison and determine whether they are right for you. Browse through our website for more information or call us at (732)-516-0111 to fix an appointment.
---